HOME RENOVATION AND CONSTRUCTION
In August 2015, a $5,000 gift card was donated to Lakota Friends Circle by the Home Depot Foundation.  This enabled a complete renovation of the home of two Army veteran brothers located in Hisle near Wanblee.  The all volunteer construction team from Pine Ridge and Wisconsin was led by Lakota Friends Circle Project Manager Jerome High Horse and Families Working Together President Bob Epps.
Complete home renovation for the Chief Bear brothers
In addition two small homes were constructed for local residents.  There are many more homes in desperate need of renovation.
One small home constructed by Jerome High Horse and volunteers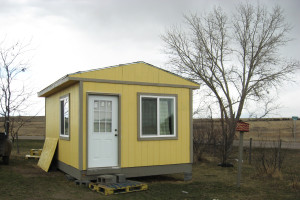 Construction of second small house with new owner (in black hat) assisting