TOOLS NEEDED FOR HOME RENOVATION FOR   ELDERS AND CHILDREN – ACCOMPLISHED!
Earlier this year we received a message from Alan J., a wonderful young Lakota man on the reservation.  He needed help buying some tools so he can repair unsafe homes with elders and children living in them.  See his message below.  The necessary funds were donated and Alan can be seen here with his new tools.
Lakota Friends Circle helped support Alan while he studied construction at the Oglala Lakota College.  After he completed the two year course he took a construction job in Rapid City, SD for two more years and then returned to Porcupine on the reservation to work with the Thunder Valley Community Development Corporation as they build a new community.  He has already volunteered his time to help others on several occasions.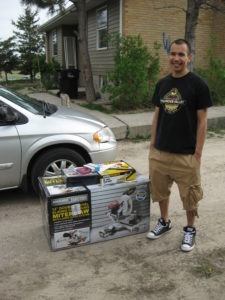 April 1, 2016
Hi Lakota Friends Circle,
I was wondering if you possibly have any connections to help me get some tools that I need. I am really trying to help people out and remodel bathrooms/rooms that may have black mold. There is either an elderly in the home or a child and I know for a fact that black mold will affect your health in the long run. I am willing to help the people out but I do not have the right equipment at the given time. I would rather have someone like myself helping these people out instead of someone overcharging them or possibly just have the mold grow. It is terrible. This is something I am trying to do on my own time separate from my full-time job.
It's not only interior work that needs to be done, it's also decks with poor quality that are especially dangerous for elderly and young children. I just worry mainly about the children and our elderly. I have done a few searches and the tools that I need at the moment are just over $600.00.

If there is somebody out there that would be willing to help me help the people it will be appreciated big time! 
Alan